Orthopedic Affiliates
Joint and Sports Medicine Center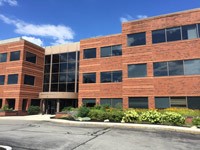 Orthopedic Affiliates has been serving the Emerson Hospital community of towns for more than 50 years. Our surgeons have been trained at the most prestigious medical schools in the country and have honed their skills with years of experience, continuing education, and teaching.
We have a dedicated, friendly staff available to answer your questions and make your visit to our office as pleasant as possible. From your first appointment to facilitating your surgical process and recovery we hope you will find a smile and caring attitude.
What's New
We have state of the art digital x-ray imaging available to us right in our office. For most patients we can take your x-rays prior to seeing the provider. If you have had recent x-rays, MRI or CT studies done outside Emerson Hospital for the condition you will be seen for, please bring them with you to the appointment.