Donald A. Driscoll, Jr. MD
Board-Certified Orthopedic Surgeon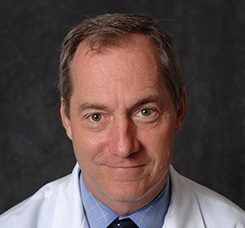 Medical Degree
Tufts University School of Medicine
Orthopedic Surgery Residency
New England Deaconess Hospital
New England Medical Center
Fellowship
Massachusetts General Hospital
Hospital Affiliations
Specialties
Total Joint Replacement
Sports Medicine
General Orthopedic Surgery
Donald A. Driscoll Jr. M.D. is a Board Certified Orthopedic Surgeon who had practiced at Emerson Hospital since 1986. Dr. Driscoll is fellowship trained in Total Hip and Knee Replacement and this is his area of special interest. He also specializes in sports medicine, arthroscopy and fracture management.
Dr. Driscoll graduated from East Hartford High School in Connecticut, where he was class president, captain of the football and baseball teams and a member of the 1971 State Baseball Championship team. He then gradated from Harvard College with honors in Biology with a special interest in Marine Biology and Ethology (the evolutionary aspects of animal behavior).
Dr. Driscoll graduated from Tufts University School of Medicine in 1980. He trained at the New England Deaconess Hospital in Boston for two years in General Surgery and then completed his Orthopedic Surgery training at Tufts New England Medical Center under the tutelage of Dr. Henry Banks and Seymour Zimbler. Six months of his Orthopedic Residency was at New England Baptist Hospital specializing in Total Joint Replacements under Dr. Rod Turner and Dr Benjamin Bierbaum.
Dr. Driscoll then completed a Total Hip and Total Knee Replacement Fellowship under the direction of Dr. Hugh Chandler at Mass General Hospital and New England Baptist Hospital.
He was Board Certified by the ABOS in 1988 and then, as required, re-certified in 1998 and 2008. Dr. Driscoll is also a fellow of the American Association of Hip and Knee Surgeons.
Dr. Driscoll has served in multiple roles on the Medical Staff at Emerson Hospital including Treasurer, Chief of the Orthopedic Service, Chairman of the Department of Surgery, and Delegate at Large to the Board of Trustees. He is currently the President of the Medical Staff and a member of the Board of Trustees at Emerson Hospital.
Dr. Driscoll has been the sideline doctor for the Concord Carlisle High School Football team for the past 23 years. He lives in Concord with his wife Pattie and their three children.